This isn't the first iteration of this magical serum. It's been around for ages, in fact, it's the 8th generation (it was launched in 1985) and has slowly been re-invented over the years. This version is known as the best version yet as Clarins have removed the mineral oil and kept the same powerful 20 plant extracts that made this product so iconic! They have also added in an additional plant extract which makes this so advanced and effective called Turmerone (a derivative of Turmeric). This plant extract essentially enhances the skin cells' ability to listen and communicate with one another. As a result, all the other ingredients work more effectively together.
Price
30 ml – R890
50ml – R1190
Purchase at clarins.co.za and get free shipping
Claims
"Containing 21 active plant extracts including new star ingredient turmeric, distinguished for its exceptional anti-ageing properties. New Double Serum acts on the appearance of major signs of skin ageing, skin is more radiant, firmer and fine lines are smoothed. The new innovative bottle delivers a made-to-measure dosage of the serum, thanks to its rotating push button."
The skin is firmed
Wrinkles are visibly smoothed
Radiance and evenness are restored to the complexion
Pores are diminished
Benefits of some of the ingredients
Oat- firming power

Banana- promotes the synthesis of collagen and contributes to skin density.

Cocoa- soothing and anti-free radical

Beautyberry- radiance

Organic Teasel- antioxidant

Mary's thistle- nourishing

Edelweiss- antioxidant

Ginger lily- antioxidant

Jania- promotes the elimination of dead skin cells

Leaf of life- hydrates by triggering the natural production of hyaluronic acid by the skin

Kiwifruit- promotes skin cell nutrition

Mango- Nutrition, comfort, softness

Horse chestnut- draining

Quinoa- helps strengthen the skin's barrier

Glasswort- hydrating

This newer version of Double Serum is still in the double-vial bottle which ensures all ingredients are kept air-tight and super-active. This new bottle is an advanced version of the original allowing you to switch to the preferred amount of product you want to be dispensed (either a small pump or a large one).
I personally use the large pump dispenser option as this is just the right amount of my face and neck. It has a push-button system which automatically dispenses just the right amount of each phase (vial): 2⁄3 water-based ingredients and 1⁄3 oil-based ones.
Application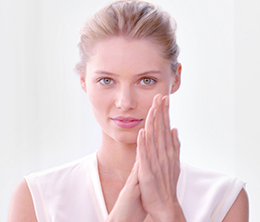 Dispense a dime-size amount of Double Serum into your palm. Warm the mixture in your hands to bring it to body temperature, so that your skin accepts it instantly.
3 seconds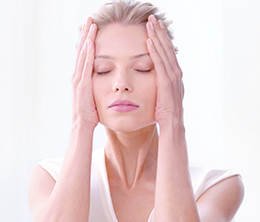 Use the natural weight of your hands to distribute the product evenly over your face, neck and décolleté.
8 seconds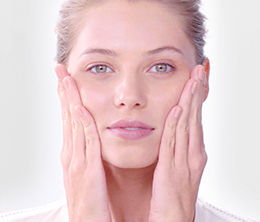 Use Clarins' Draining Pressure Method to enhance circulation, revive radiance and promote firmness.
Repeat: 3 times on the cheeks, 3 times on the forehead, 5 times on the neck and décolleté.
16 seconds
Results
Albeit being pricey, I have to admit that I truly am blown away by this serum and it has become a daily staple for me since my mum introduced me to it. Being someone that suffers from very dry skin, I haven't used something in my routine before that has made my skin look and feel this radiant and plump!
I love how fuss-free this product is- anyone can use it and there are no rules on how it can be used.  I have been using it day and night as I just adore how natural this feels on my skin and how quickly it absorbs.
It creates the perfect base for makeup application too and you can add a small pump to your foundation for an extremely glowy look. I do this with my Clarins Everlasting Foundation (Shade: Honey).
Disclaimer: Images are not property of The Makeup Maverick.